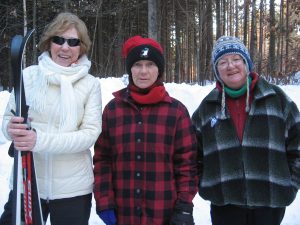 Future of the Trails
Planning, clearing, grading, grooming, bridge building and removing brush, stumps, and other obstructions requires the expenditure of time, money, and effort. To ensure that the Machickanee Cross Country Ski Trails can be adequately maintained and improved for the future, donations, and volunteer assistance are needed.
Your support is greatly appreciated.
Send donation or membership to P.O. Box 66, Abrams, WI 54101
Suggested Donations
Daily:
Cashbox (at the trailhead):
Adults:        $5.00
Children:    $1.00
Annual:
Annual donations include addition to the ski club mailing list, newsletters, notification of workbees, info on club activities, up-to-date trail conditions, and other club information.
Download the brochure above, fill out, and mail to:
P.O. Box 66, Abrams, WI 54101
Individual:          $15.00
Family:                $25.00
Sponsor:             $50.00
Other donations also accepted.