The Machickanee Cross Country Ski Trails were originally planned and developed by local skiers in the Oconto County Forest with the cooperation of the Oconto County Land, Forest, and Parks Committee.The current trail system has resulted from the efforts of many volunteers who have donated their time, money, and energy since 1978. In 1982, the Machickanee Cross Country Ski Club was formed to organize these efforts.
The trails lead through a series of forest types, including red pine plantations, coniferous swamps, oak ridges, and birch and aspen stands. They undulate through topography ranging from creek bottoms to ridge tops. Numerous hills and curves of various slopes and lengths make this course a challenge for the intermediate to advanced skiers.
The Machickanee Cross Country Ski Trails also include a beginner loop that can be enjoyed by skiers of all ability levels.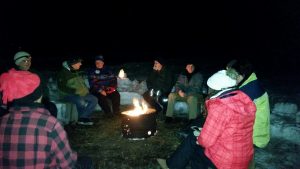 Current Trail Conditions
Dave groomed Thursday (1/18) evening.  He reported that the tracks on all of the trails are in fair condition.  They are thin in spots but also good in other areas.  Extra caution should be used when skiing any of the hills.  With the warm weather predicted for the weekend the best skiing should be in the late afternoon when the tracks are starting to set back up and before they freeze hard.  Mid-morning should also be OK as the tracks begin to soften and before they turn to slush.  As long as it freezes overnight we shouldn't lose too much snow, except where the sun may shine directly on the tracks.
We are hoping for new snow next week that would give us good conditions for our Moonlight Ski on January 27.  No candles, so truly skiing by the light of the (almost) full moon.  Bring a headlamp if you desire.  There will be a bonfire so bring some food and beverages (some to share if you like).  Skiing will be from 6:30 – 9:00 pm.  No candlelight skis this winter.  They take too much effort and have come up short on the donation side to make them worthwhile.  We may try them again next year, depending on the success of the Moonlight Ski this year.