The Machickanee Cross Country Ski Trails were originally planned and developed by local skiers in the Oconto County Forest with the cooperation of the Oconto County Land, Forest, and Parks Committee.The current trail system has resulted from the efforts of many volunteers who have donated their time, money, and energy since 1978. In 1982, the Machickanee Cross Country Ski Club was formed to organize these efforts.
The trails lead through a series of forest types, including red pine plantations, coniferous swamps, oak ridges, and birch and aspen stands. They undulate through topography ranging from creek bottoms to ridge tops. Numerous hills and curves of various slopes and lengths make this course a challenge for the intermediate to advanced skiers.
The Machickanee Cross Country Ski Trails also include a beginner loop that can be enjoyed by skiers of all ability levels.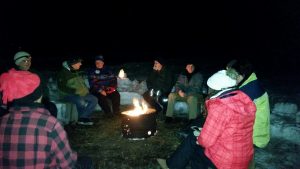 Next Events
Ski Club Meeting 1/20/20:  Monday 1/20/20 at 7:00 pm at the Library on Main Street in Oconto Falls. Discuss Ski Club business and upcoming events. Open to all.
Meet and Greet 2/2/20:  Scheduled for Sunday 2/2/20 from noon to 3:00 at the Trailhead. Meet other skiers and learn more about the club and the trails.  It is the club that provides all trail maintenance and grooming. Bonfire for warmth and cooking (BYO food & beverages). Call (920-846-2965) for additional information.
Candlelight Ski 02/08/20:  Scheduled for Saturday 2/8/20 from 6:30 – 8:30 pm on the Blackberry Ramble Trail. Bonfire for warmth and cooking at the trailhead (BYO food & beverages). Call (920-846-2965) for additional information.
Click on the Calendar of Events tab for updates on other events.
Trail Conditions
Wednesday 01/18/20:  Just returned from the trails. Lots of good new snow.  Roads are plowed but the parking lot is not. Should be able to get in and out of the parking lot OK, especially if someone breaks trail with a pick-up first.  Wouldn't hurt to bring a snow shovel just in case.  Trails will be groomed Sunday after the overnight winds die down a little bit.  Winds will blow snow in the track.  Temperatures will be colder Sunday morning which should allow for much better grooming. If you want to ski a track will have to be "skied in" Saturday afternoon/Sunday morning until groomed.
Trail Work this Fall:  All the rain this past summer and fall caused a lot of problems on the trails. Clean-up and bridge inspection began in late September. Mowing commenced in mid-October and took until early November. Water and mud on the trails made mowing difficult and a lot had to be done with hand held gas trimmers and brush cutters. Washouts and erosion also had to be repaired. At the base of Snowmobile Hill railroad ties and t-posts were used to reinforce the bank at the culvert and rock and dirt were hauled in for fill. At the approach to Spring Hill Bridge a trench had to be dug to divert the stream of water running down the hill away from the bridge.
Then came the Boardwalk. In the past the County has made repairs to this bridge. This year their resources were limited and they asked if the Ski Club could take it on. They said they would reimburse our costs. This was a big job because of the amount of the damage incurred during spring break-up and summer flooding. On 11/18 the County reviewed the work and was satisfied.
Ready for snow, right? Then came the wet, heavy snow on 12/1. There was a huge amount of damage to trees all the way around the trails. A lot of hard work by a great group of volunteers over six days got the trails cleared again.
The trails were packed but not tracked due to the wetness of the snow. The warm weather that we were up against after that ate away at any base that had been established. The snow on 12/31 was wet and didn't amount to very much. An inspection will be made on 1/1 to see if anything can be done to make it skiable. Warm weather predicted for 1/2 and 1/3 isn't going to help. We need cold weather and a 4"- 6" snowfall before we can really get back at it.
To-date there has been approximately 82 hours put in to the initial clean-up and mowing, 54 hours on the Boardwalk Bridge, and 95 hours on the snowstorm clean-up. That is a total of 231 hours by 17 volunteers to get the trails ready for the season.
Most all trail maintenance, including removing dead-fall trees and branches, mowing, brush cutting, bridge building and repairs, grooming, equipment purchases and repairs, and more are provided by the Club. In the past the County has taken care of the Boardwalk Bridge. We rely on volunteer effort, club memberships, and trail donations to keep the trails in such good condition. Perhaps you can consider joining the club or providing a donation to help us along.   Download the "Brochure" from the "Donation" tab at the top of this page to mail in a membership or donation. Or you can remember us with a donation via the cashbox located at the trailhead when you ski.