The Machickanee Cross Country Ski Trails were originally planned and developed by local skiers in the Oconto County Forest with the cooperation of the Oconto County Land, Forest, and Parks Committee.The current trail system has resulted from the efforts of many volunteers who have donated their time, money, and energy since 1978. In 1982, the Machickanee Cross Country Ski Club was formed to organize these efforts.
The trails lead through a series of forest types, including red pine plantations, coniferous swamps, oak ridges, and birch and aspen stands. They undulate through topography ranging from creek bottoms to ridge tops. Numerous hills and curves of various slopes and lengths make this course a challenge for the intermediate to advanced skiers.
The Machickanee Cross Country Ski Trails also include a beginner loop that can be enjoyed by skiers of all ability levels.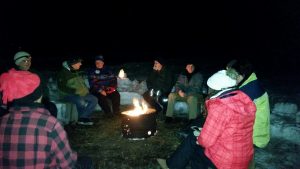 Current Trail Conditions
Continued poor winter/snow conditions so far.  Some attempt has been made to pack the trails.  Varying temperatures and mixtures of snow and rain have made tracking all but impossible.  There has been some limited skiing on the packed snow.  Maybe some snow Saturday, but likely too little too late to help out with the Candlelight Ski scheduled for Saturday. Any change in that will be updated here Friday afternoon.  
Click on the Calendar of Events tab for updates for other events.