The Machickanee Cross Country Ski Trails were originally planned and developed by local skiers in the Oconto County Forest with the cooperation of the Oconto County Land, Forest, and Parks Committee.The current trail system has resulted from the efforts of many volunteers who have donated their time, money, and energy since 1978. In 1982, the Machickanee Cross Country Ski Club was formed to organize these efforts.
The trails lead through a series of forest types, including red pine plantations, coniferous swamps, oak ridges, and birch and aspen stands. They undulate through topography ranging from creek bottoms to ridge tops. Numerous hills and curves of various slopes and lengths make this course a challenge for the intermediate to advanced skiers.
The Machickanee Cross Country Ski Trails also include a beginner loop that can be enjoyed by skiers of all ability levels.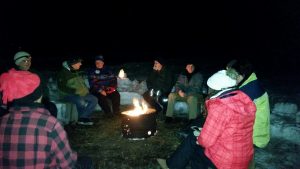 Look for the candlelight skis on Saturdays before the full moon during the season.
  Current Trail Conditions
Thursday (3/2) evening:
I went out and inspected the trails this afternoon.  Someone had skied the Blackberry Ramble and the Brehmer Creek Trails.  They were pretty much cutting through the snow to the wet, slop, and mud that was underneath.  The snow was wet to start with and it was melting from the ground up to boot.  Cold weather tonight would freeze all of that up but there isn't enough snow to groom over the top of frozen slop.  It makes best sense to cancel the candlelight ski scheduled for this Saturday night.
Our annual Spring Fling is Sunday (3/12) at the Bavarian Inn in Lena.  Happy Hour is from 5-6:00 pm.  Dinner will be ordered off the menu and served around 6:00 pm.  Everyone is welcome, no need to be a member.  Call or email if you want more info.