The Machickanee Cross Country Ski Trails were originally planned and developed by local skiers in the Oconto County Forest with the cooperation of the Oconto County Land, Forest, and Parks Committee.The current trail system has resulted from the efforts of many volunteers who have donated their time, money, and energy since 1978. In 1982, the Machickanee Cross Country Ski Club was formed to organize these efforts.
The trails lead through a series of forest types, including red pine plantations, coniferous swamps, oak ridges, and birch and aspen stands. They undulate through topography ranging from creek bottoms to ridge tops. Numerous hills and curves of various slopes and lengths make this course a challenge for the intermediate to advanced skiers.
The Machickanee Cross Country Ski Trails also include a beginner loop that can be enjoyed by skiers of all ability levels.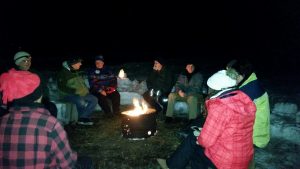 Current Trail Conditions
Winter is back.  While Green Bay only received several inches of snow Monday night, Oconto Falls got more in the neighborhood of 8". There was plenty of snow to set a good track on Brehmer Creek and Blackberry Ramble Trails on Thursday night.  The only area of caution is the Shortcut Hill on the Brehmer Creek Trail.  We could not make it up the downhill side with the groomer and lost traction due to the base being a sheet of ice.  We had to back all the way down and get a second run at it.  That resulted in a lot of spinning of the snowmobile belt and a poor ski track. If you want to ski Brehmer Creek Trail we recommend using the old start location along the road and bypassing Shortcut Hill. It looks like at least one skier had been out on Brehmer Trail earlier and skied the loop backwards.  Someone also snowshoed on some sections. Coral Berry and Timberwolf trails were not groomed, but if you want to break trail it should be pretty decent skiing there as well.
It should be a beautiful weekend to get out and do some late season skiing. It looks like the weather should hold through Sunday afternoon.